04 |

Designing for Specific Circumstances
Designing for people with dementia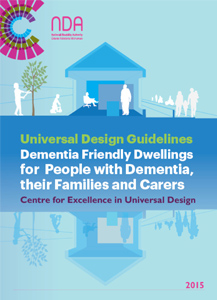 Appropriate design can help people with dementia to remain living at home and in their community independently and safely for as long as possible and also supports family members and carers.
REFERENCES AND WEBSITES
Grey, T., Pierce, M., Cahill, S. and Dyer, M. (2015) (online). Universal Design Guidelines Dementia Friendly Dwellings for People with Dementia, their Families and Carers. Centre for Excellence in Universal Design, National Disability Authority. Available at: http://universaldesign.ie/Web-Content-/UD-DFD-Guidelines-Full-Document-non-acc-June-15.pdf. (Accessed August 2018).
Royal Town Planning Institute, (online). Dementia and Town Planning. Available at: http://www.rtpi.org.uk/knowledge/practice/dementia-and-town-planning/. (Accessed August 2018).
Thomas Pocklington Trust, (2010) (online). Design Guidance for People with Dementia and for People with Sight Loss. Available at:https://www.pocklington-trust.org.uk/research-3/ (Accessed August 2018).